BLOG
Maintaining A Stamped Concrete Patio
by TRP Ready Mix on August 28, 2020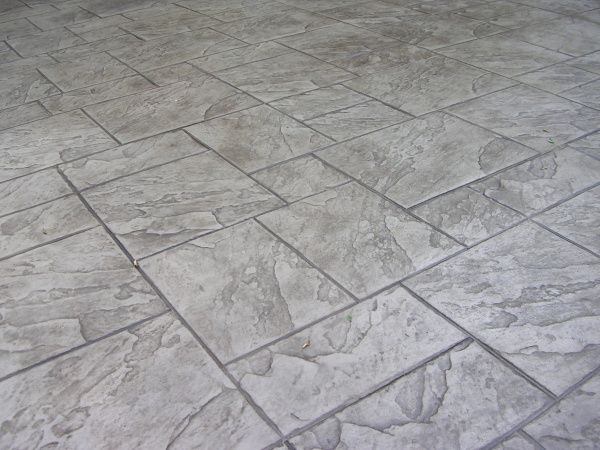 Tips and Other Maintenance Advice
 A stamped concrete patio is a beautiful thing, but it's important to take care of the surface so that it will continue to look incredible and last for years to come. It has become a very popular choice for homeowners due to its affordability and endless possibilities in terms of design and colour.
In this article, we outline the benefits of stamped concrete and why you should consider it as an option for your next landscaping project. Below, we provide tips on properly maintaining the surface, along with the benefits that it can offer you, and your property.
What is Stamped Concrete?
Stamped concrete is a surface that is patterned, embossed and/or textured to look like brick, slate, flagstone, stone, tile or wood, among many other patterns and textures. It is commonly used for patios, sidewalks, driveways, pool decks and interior flooring. It is a less expensive alternative to using some of the authentic forms of the materials mentioned above and offers many benefits.
What are the Benefits of a Stamped Concrete Patio?
Stamped concrete is a budget-friendly way to make your concrete look decorative. It is as affordable as it is easy to install and is far less labour intensive than installing interlocking brick. Stamped concrete involves mixing, pouring, stamping and sealing for protection. There is room for error, however, so it is best left to experienced professionals. Below, we explore some of the benefits that a stamped concrete patio can offer.
Lots of Design Options
When it comes to design options, stamped concrete can offer you a lot. It can be coloured to match the exterior of your home, a pool, existing concrete or anything else. It is very versatile this way and can make your patio look like it has been part of your landscaping design. It can also be stamped in virtually any pattern, giving you lots of different options to choose from.
Durability and Longevity
A stamped concrete patio will serve you very well for years to come. It won't sink unevenly like some types of patios and will hold up to heavy traffic, patio furniture, children and pets.
Low Maintenance
In addition to being affordable, it is also low maintenance. It looks luxurious, but its only maintenance requirement is that it be resealed every other year. This will keep it from becoming chipped or cracked, and it will help preserve its colour.
Easy, Quick Installation
Stamped concrete is one of the fastest and easiest materials to install. It requires less labour, and your project can be completed in no time.
How to Maintain Stamped Concrete
Routine maintenance is simple with stamped concrete. Below, we will go through the minor maintenance requirement that will ensure your stamped concrete remains in tip-top condition for years.
Periodic Cleaning and Power Washing
This goes without saying. Debris and dirt can eventually wear on surfaces, therefore keeping the area clean with a periodic power wash and some regular sweeping will keep things looking great for far longer.
Joint Sealing
Joints should be resealed every two to three years, depending on your weather conditions.
Surface Sealing
Sealing your surface offers many benefits and should be done every other season. Benefits of sealing include stain, oil, chemical damage prevention, protection against abrasion and wear, easier to clean and maintain, reduces mold and organic growth, enriches the colour, adds a beautiful sheen to the surface and adds resistance against freeze-thaw cycles.
Watch for Cracks
Cracks are a normal symptom of wear on a concrete surface, even with the best maintenance routine. But if they're addressed quickly, they can be repaired easily. When you're walking over the surface on a regular basis, or maintaining it by sweeping or power washing, take note of any cracks you see and give your surface a quick glance regularly to spot irregularities so that you can jump on them quickly and easily.
Install a Shade Structure
Installing a shade structure, such as pergola or gazebo, can help maintain the colour and surface of your concrete for longer. UV rays from the sun can impact the colour over time, like anything else. Therefore, the more shade that is available over the surface, the longer your colour will maintain its vibrancy.
A Beautiful, Low Maintenance and Affordable Choice
Stamped concrete provides a unique look for driveways, sidewalks and patios. It is also great when used to surround pools, balconies and decks, with its array of design and colour options.  The possibilities are truly endless.
If you are considering a stamped concrete surface and would like more information, contact TRP Ready Mix, we can provide you with a wealth of information to assist you with making the right choice for your project.