BLOG
Concrete Pool Deck Ideas
by TRP Ready Mix on June 11, 2020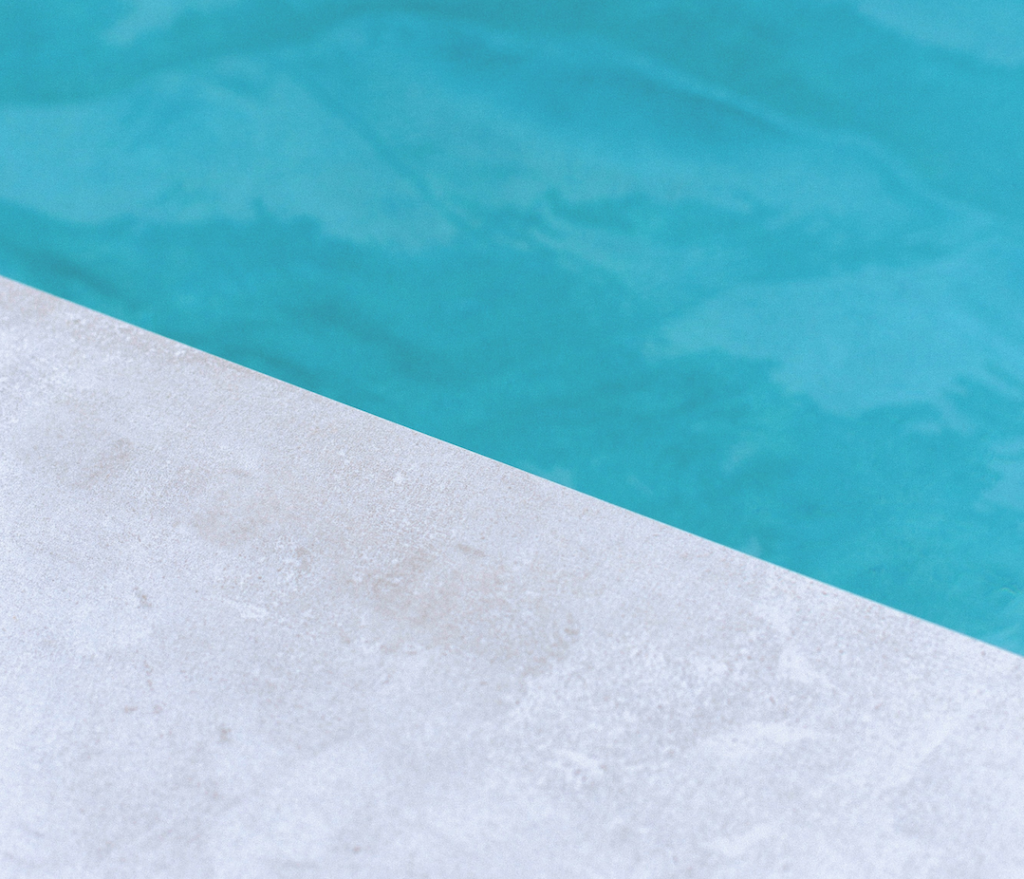 Spice Up Your Backyard This Summer with a Brand-New Concrete Pool Deck
With summer vacation plans on hold, why not take this time to create a sunny resort in your own backyard? Revamping your pool deck with concrete adds value to your property, creates a trendy and modern atmosphere and even adds an extra element of safety to your pool area.
This article will provide design inspiration for transforming your inground pool with concrete decking and explain the benefits of using concrete for this reason.
Why Choose Concrete for Your Pool Deck:
Durable
Concrete is a premium choice for your pool deck for many reasons, but one of the biggest reasons people choose concrete is because of its unparalleled durability. Concrete is built to last. In fact, as it cures over time, your concrete deck will actually get stronger.
The lifespan of concrete is around two to three times longer than alternative building materials like tile. If you're looking for something that will last for many years with minimal maintenance, concrete is definitely your best option.
Water-Resistant
Although there are many potential uses for concrete around the home, it is especially useful for pool decks because it's almost completely waterproof. This is great for an area where there will be a lot of splashing and exposure to moisture. While it's important to be realistic – concrete will leak and take in moisture if it is cracked or sun-damaged – with a little maintenance, you won't have to worry about your concrete pool deck getting damaged by water.
Versatile
Contrary to popular belief, concrete doesn't have to look unfinished and industrial. In fact, concrete is actually quite versatile and can be molded into a variety of patterns and shapes. It is also available in a variety of finishes that can add a polished and sophisticated feel to your concrete pool deck.
You can imitate a stone or tiled look with concrete stamping, or even paint/stain your pool deck to experiment with different colours. Choosing a lighter colour will help keep your pool deck cool, and avoid scorching feet on hot days! On the other hand, if a modern, industrial look is what you're aiming for, then your pool deck will require minimal work and even less expense.
Slip Resistant
Concrete is naturally slip resistant, which makes it a safe and functional choice for your pool deck. If you want to add an extra bit of safety, you can opt for a gravelly or sandy finish. If your concrete pool deck has an epoxy finish or is colour-hardened, you run the risk of it being a little more slippery.
Many homeowners choose to apply a rough-textured finish to the area immediately surrounding the pool, with a smoother, polished decking further out where it is less likely to get wet. Many "sand" or "gravel" finishes come in a variety of sizes and colours, so your pool deck will be safe and trendy no matter your aesthetic.
Cost-Effective
Not only are concrete pool decks inexpensive to purchase and install, but they are also a sound long-term investment. Concrete structures have fewer operating costs related to maintenance, energy consumption and repair. Believe it or not, a sustainable, properly installed concrete pool deck can give you lifecycle savings of more than 20 per cent of the total construction cost.
Concrete Pool Deck Design Ideas:
Add Other Concrete Elements
Aside from the pool deck itself, concrete has a variety of other surprising uses as well. In fact, it can be the perfect material for building benches, firepits, planters, raised garden beds and other elements to spice up your outdoor space. Concrete can even be used to construct a tiered patio space for a little extra feng shui.
Some homeowners use concrete to build a modern and trendy outdoor cooking space that goes beyond a simple firepit – concrete can be used to construct an outdoor oven and even a countertop prep space that will be sure to withstand the elements.
Add an Accent Border
Looking for a subtle, understated way to add a touch of elegance to your pool deck? Try adding a concrete accent border! This will differentiate the space from the rest of your patio in a way that is both functional and aesthetically pleasing. Unlike traditional metal landscape edging, a concrete border will be pretty much permanent and you won't have to worry about it rusting over time. Plus, there are a variety of design options, and you can either match it to your pool deck or use it to add a pop of colour!
Experiment with Texture
Like we mentioned above, utilizing different textures for your pool deck is a great way to amp up your pool's safety. This is a great functional use for concrete, but experimenting with different textures can also take your deck design to a whole new level. Concrete finishes can range from polished and smooth (not ideal for the area immediately surrounding your pool) to rough, sandy or gravelly. You can even get a pebbled finish, which looks great as an accent or border.
Try Stenciled or Stamped Concrete
Stamping or stencilling your concrete pool deck is another great way to play around with design and texture. This is often used by homeowners who are looking to step away from the sleek, modern industrial feel toward something more elegant. Stamped concrete is patterned or embossed to resemble other patterns and textures like brick, flagstone, tile, stone, slate, or wood. Stencilling concrete is an alternative method that produces similar results.
Like concrete stamping, stencilling is done after the concrete is poured. Stencilled concrete is easier, faster and often cheaper to apply than the stamped variety because the stencils are made from disposable paper. With stencils, larger areas can be completed at one time when compared with stamped concrete. However, stamped concrete is more durable, meaning the design will stay crisp and seemingly brand new for much longer.
The Takeaway:
When looking to add some sizzle to your outdoor space, concrete probably won't be the first thing that comes to mind. However, it's actually one of the outdoor landscaping industry's best-kept secrets! You won't regret taking advantage of this inexpensive, durable, safe and incredibly versatile material for your pool deck.
If your pool deck is in need of a facelift this summer, give us a call and we'd be happy to get the ball rolling. Before long, we promise you'll be relaxing in your own personal oasis!