BLOG
What's A Stone Slinger and How Will it Help With My Project?
by TRP Ready Mix on May 11, 2019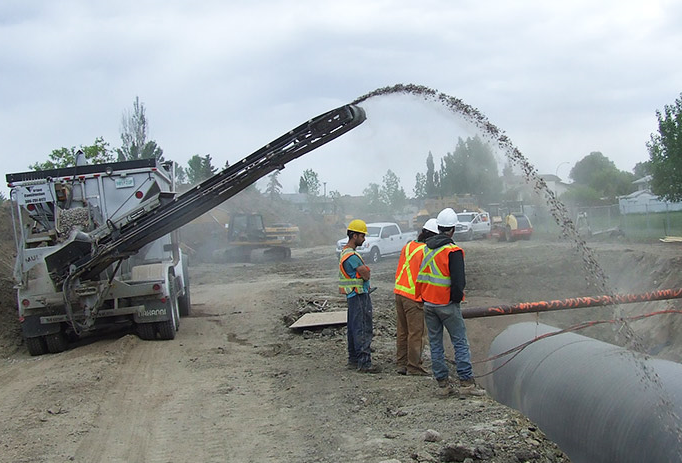 Concrete Contractors Discuss How a Stone Slinger Service can Help You Finish Your Projects On Time & Within Budget
Is your project reaching a roadblock because you can't deliver sand or aggregates to a specific spot? Stone slingers are ideal for delivering products to those hard-to-reach areas and ensuring your project is on track and within budget.
Instead of breaking your back and budget transporting and spreading aggregates by hand, consider stone slinger services from local concrete suppliers to do the hard work for you.
Here's everything you need to know about stone slingers, including how they can help you finish your projects on time and within budget.
WHAT IS A STONE SLINGER?
A stone slinger is a tool used on trucks to deliver and spread out a variety of construction materials. Like a dump truck, a stone slinger will dump materials off at a location. But unlike a dump truck, stone slingers deliver materials with precision and in difficult to reach places that a dump truck could never get to.
While the beds of dump trucks tilt over to dump out the materials, a hopper and conveyor belt are used to deliver materials from the bed of a stone slinger truck.
Common materials delivered by stone slinger trucks include:
Gravel,
Sand,
Rock,
Soil, and
Mulch.
HOW DOES A STONE SLINGER WORK?
Stone slingers accurately launch streams of aggregates or soil at high speeds from a hopper body into a specified location.
A stone slinger uses a radio-remote-controlled variable-speed conveyor belt system that can rotate in any direction to dump, spread, or 'throw' aggregate up to 100 feet away from the truck. Slingers can also sling up high enough to reach over a single-story house.
TYPES OF PROJECTS STONE SLINGERS ARE USED FOR
Stone slingers are used for a variety of residential and commercial projects that require you to move large and often heavy volumes of aggregate and soil from one location to another quickly and efficiently.
Stone slinger trucks are commonly used for projects requiring precision placement of soil and aggregates in hard-to-reach areas, such as over fences, down steep slopes, and on the inside and outside of foundations.
Stone slingers are used for the following projects:
Residential and commercial construction;
Installing playground surfaces;
Formwork;
Sidewalks;
Driveways;
Parking lots;
Pool backfill;
Septic tank backfill;
French drain backfill;
Weeping tile backfill; and,
Landscaping.
The bottom line is if you can't deliver your construction materials quickly with a dump truck, a wheelbarrow, or by hand, and your project requires the precision placement of your aggregate or soil, then you need a stone slinger truck to get your project completed on time and within budget.
THE BENEFITS OF USING STONE SLINGERS IN YOUR CONSTRUCTION PROJECTS
Stone slingers are versatile, helping you get over obstacles that will otherwise slow down your progress. Here are some of the main benefits of using stone slingers in construction projects:
Far Reach
A stone slinger can deliver materials up to 100 feet away from the slinger truck, along with being able to reach up high enough to sling over single-story homes.
Versatile
Stone slingers help you work in tight spaces where your options are limited. For example, if the space where you're working is too small to accommodate a dump truck, a slinger will likely be able to reach the area.
Quick Placement
Stone slingers help projects stay on track and within budget by cutting the project time in half with their high speeds. A project that would normally take all day if completed manually will only take a few hours to complete with a slinger.
Reduced Expenses
Along with cutting time, stone slingers also help cut labour costs by eliminating the need for manual labour, shovels, wheelbarrows, and extra working hours. A single operator can run a stone slinger instead of having an entire crew deliver the materials by hand, making a stone slinger rental a more cost-effective option.
Precision Placement and Depth
Stone slingers can deliver materials to a precise location and depth, even in hard to reach areas, thanks to the radio remote control that allows you to place material in the exact spot you need it.
No Loss of Materials
While you might lose some sand or other materials when transporting manually, stone slingers reduce the amount of waste, saving you even more on costs. The materials go straight from the truck to the precise delivery location.
Reduced Clean Up Time
Thanks to the precision placement of materials, along with the reduced waste, there is less of a mess to clean up once you've completed your project. This reduced cleanup time will also help you wrap up your project on time while saving extra working hours.
No Damage to Your Yard or Property
Instead of driving a massive dump truck onto a lawn and potentially tearing up the grass, a stone slinger truck can stay on the road or in the driveway while still being able to reach whatever location you need it to within 100 feet.
This summer, consider making your life a lot easier with a stone slinger rental. You can cut time and save money while saving yourself from the backbreaking work of moving heavy loads manually.
Contact your local concrete suppliers for more information on the invaluable stone slinger service.