BLOG
Three Home Projects You Can Create With Ready Mixed Concrete
by TRP Ready Mix on August 18, 2016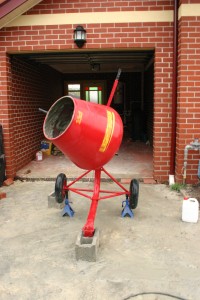 Upgrading your home can cause stress for yourself and for your wallet. New furniture, if you want something which will last more than a year, it will cost you. So, how can you add elegance without adding stress? Try these three simple projects made using concrete ready mix. These easy DIYs will refresh your décor and most importantly, will be sturdy enough to enjoy for years to come!
1. A Concrete Ready Mix Bench
This is a great DIY weekend project. All you have to do is create a wooden frame and pour the in. This also means that you get to shape your new bench anyway that you want. Soon, you'll have an inexpensive brand new concrete bench that could've cost you up to $200 at a store. Place your new seat in the garden, on the patio or if you want to go for a more modern look it could even make a great addition to your home!
Alternate Idea: Try making only the seat of the bench concrete and build the legs out of wood. This would make creating the frame simpler and add a rustic touch to the look.
2. A Ready Mixed Concrete Pathway
If you have a small backyard, adding a smaller area of concrete ready mix will help you keep some of your green and leave room for a garden. If you have a large backyard, a ready mixed concrete path can help divide the yard, enhance flow and create a more visually appealing space. Whether you choose to opt for a contractor or DIY, your new path can be styled and shaped to perfectly fit your space. You can even choose to mimic the look of interlock, while avoiding all the tedious work.
Tip: For an elevated look, try staining the concrete.
3. A Modern Industrial Concrete Ready Mix Table
For this one you may want to use ready mixed concrete for the surface and choose to form the legs out of wood. This will help keep the table lighter and give it a unique style. Creating your table can be as ambitious or small as you'd like, by opting to create a side-table, coffee table or kitchen table (or possibly all three)! Just make sure when you're creating a mold, the concrete ready mix won't is think enough for the wood to support.
Alternate Idea: Add a pop of colour by paining the legs!