BLOG
Outdoor Kitchen Ideas Using Concrete
by TRP Ready Mix on October 3, 2020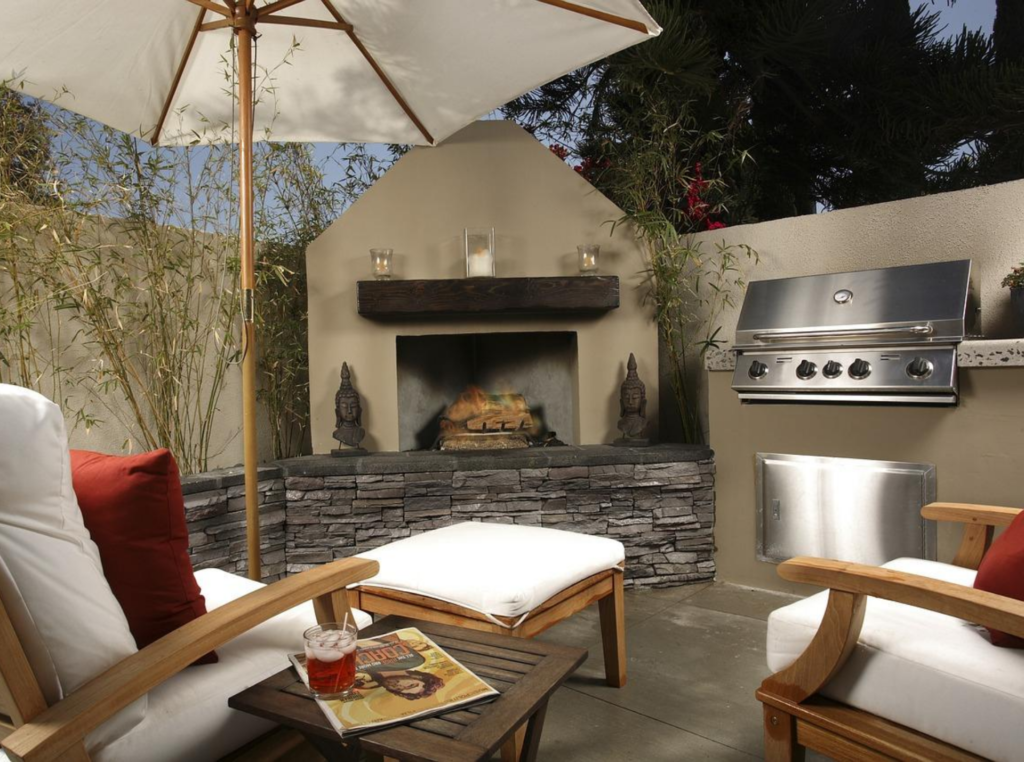 How Concrete Can Elevate Your Outdoor Kitchen Design and Functionality
Outdoor kitchens are becoming more and more popular. They're an extension of your home and, in a way, add more usable square footage when entertaining. Having the ability to cook meals outdoors, especially in summer, is a great way to host and enjoy the beautiful weather.
The reality is that the Canadian elements take their toll on anything you have outdoors. Between baking in the sun, water freezing, then thawing, and heavy rains, etc.—it can take its toll. If you're building an outdoor kitchen, you will want it to be able to withstand the elements.
In this article, we explore some concrete kitchen design options that double as aesthetically pleasing and durable.
Building an Outdoor Kitchen with Concrete
Concrete is an extremely durable and versatile material, which makes it ideal for outdoor kitchens. But even with a material as durable as concrete, it does need to be installed correctly and sealed properly. The concrete used in an outdoor kitchen must be tailored to meet the challenges of the environment it will be in.
Fortunately, concrete is a material that is meant to be used outdoors. You want to use a material that is freeze-thaw resistant and a material that can withstand heat.
What is An Outdoor Kitchen
An outdoor kitchen is just that. A kitchen, outdoors. How complex you make it is up to you, but usually, the basics are a built-in BBQ, countertops, a refrigerator, an element. You can get as complex as you like with your design and appliances. Some add brick pizza ovens, smokers etc….and the design options are limitless.
Having an outdoor kitchen is an amazing way to enjoy friends and family without having to leave their side when outdoors. It eliminates the need to run in and out of the house to take care of cooking.
It's also a great way to be outdoors way more than you would be otherwise.
The Benefits of Adding an Outdoor Kitchen to Your Yard
Outdoor kitchens add value to your home, but most of all, they add convenience and memories. Having the convenience of cooking outdoors is an excellent way to spend more time outside enjoying your yard and the nice weather, but It also allows you to be present when you have friends and family over, eliminating a lot of the back and forth trips into your home.
Fewer trips equals more time with those you love. It also expands your living space and adds a tremendous amount of convenience to your life.
Why Use Concrete
Concrete is a great material for outdoor kitchens thanks to its high durability. The advantage of concrete is that it can be poured into many different shapes to fit your outdoor kitchen's exact dimensions. It can also come in a variety of customizable finishes.
Sealing concrete for your outdoor kitchen can prevent cracking, it's easy to maintain, easy to clean up and can withstand the weather elements.
Ways to Incorporate Concrete in Your Outdoor Kitchen
There are various ways that you can incorporate concrete into your outdoor kitchen. Below, we list some of the main uses.
Concrete Patio & Dining Area
Concrete can be used as flooring for your dining area. You may have decking that is wood or another material. Installing concrete around your dining area is a great way to add beauty to your patio and eating area. It's also durable and resistant to all of the traffic this area will endure.
Concrete Counters
Concrete countertops for outdoor kitchens are a very popular option due to the design and customization options. You can choose the exact colour and shape you want, select a unique edge profile and polish the surface for a shiny finish if you choose to do so.
It can even be customized to replicate the look of granite, marble and even wood. You can have textures and finishes to match any design style you have and add drainboards, trivets or cutting boards.
Concrete Fire Pit
Fire pits can be built from a variety of different materials, but all must be fire retardant to prevent embers and flames from spreading beyond the boundaries of the fire pit. A concrete fire pit is made from either poured concrete or concrete blocks.
It's a great material to use as it is relatively inexpensive and easy to work with.
Concrete Bar Top
Concrete bar tops are a great way to add personality and boldness to something that might otherwise be drab and cookie-cutter. The enhanced design, style options, durability and heat resistance of a concrete bar top make it a great option to spice up the look of your bar top.
Once sealed, it is stain-resistant and ages beautifully.
Concrete Table
Concrete tables offer durability, endless design options, colour options, finish options and a distinct uniqueness to any kitchen area. It's natural-looking and will last for years to come.
A Kitchen that will Withstand the Elements
Using concrete for an outdoor kitchen is a great material choice for the elements. It's a solid investment that, if maintained properly, can offer you years of enjoyment and provide you with a very customized look.
The options truly are endless in terms of design, and its durability makes it an ideal choice for outdoor kitchens. Your local concrete supplier can provide you with a wealth of information if you choose to look into this popular design route.