BLOG
DIY Concrete Ready Mixed Valentine's Day Gifts
by TRP Ready Mix on July 18, 2016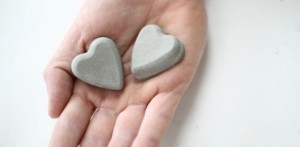 Valentine's Day is all about the ones we love. Whether you're writing love letters to your sweetie or spoiling your kids with treats, giving gifts for this occasion should come from the heart. What better way to say I love you than to gift something homemade that you crafted with your own two hands. These ready mixed concrete projects will have your Valentine blushing with excitement and the best part is that the supplies needed are probably already lying around your house. Get a supply of concrete in Ottawa and your crafting tools and you're ready to create a memorable DIY Valentine's Day gift.
DIY Candle Holder
What you'll need:
– Ready mixed concrete
– A mold to cast your holder in (soda cans work perfectly)
– Pink or red paint
– Tea light candle
Carefully cut the top of your soda can or other mold off.
Pour the ready mixed concrete into the mold leaving a 1 inch space from the top.
Gently press the tea light candle into the middle so it sinks down a bit – don't worry, once the concrete dries you'll be able to remove the candle.
After leaving your candle mold to dry overnight, cut and carefully remove the can.
Paint a strip around the bottom of the holder or a cute design – like hearts – and there you have it! The perfect handmade gift for that special someone created from concrete in Ottawa.
DIY Concrete Hearts
What you'll need:
– Ready mixed concrete
– Heart shaped silicone ice cube or baking trays
– Paint and glitter (optional)
Pour your ready mixed concrete into the heart-shaped molds.
Let dry overnight then carefully pop out.
Decorate with colourful paint and glitter and gift your heart to your special Valentine. These hearts make cute paper weights or nick knack for grandma crafted from Ottawa concrete.
DIY Concrete Letters
What you'll need:
– Ready mixed concrete
– Silicone letter molds
Choose the letters you'd like to gift (like I, L & U or their first initial) and fill the mold with your concrete.
Let sit overnight and remove once completely dried.
For a modern look, keep the letters grey or decorate them with paint to give them a pop of colour. No matter how you choose to gift them your letters created from Ottawa concrete will be sure to impress.