BLOG
Concrete Answers
by TRP Ready Mix on October 28, 2016
The Best Questions To Ask Potential Concrete Contractors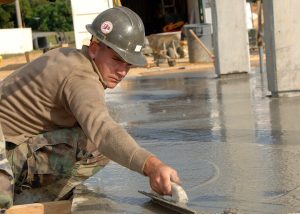 If you're looking to install a concrete surface—of any size—but you're not sure where to start, a concrete contractor is your best bet. Even then, making sure they've got the know-how for your job is a must. Don't be afraid to ask questions to find the right contractor for you. Here are a few of the best things you can ask your concrete contractor about to make sure the job is done to match your standards:
Project Timelines
Making sure the job's timeline matches up with what you want done is a great way to make sure the job gets done according to your schedule. Having a clear and agreed-upon timeline ensures that your job won't get lost among the contractor's other responsibilities and commitments.
Work History
Any reliable concrete contractor should be able to provide a detailed work history, including pertinent details on complete projects. You can even go a step further and get in touch with some of their past clients to verify the quality of their work for yourself. If a contractor does not have any examples to show, it could mean they've only started working recently—or it could be an indicator of the quality of their work. Do your research and double check to be certain.
Warranty Options
Concrete is naturally susceptible to cracking, despite preemptive measures, so most professional concrete contractors will offer you at least a one year warranty. If a contractor has no warranty at all, you're better off going with another expert.
Material Options
This questions requires a little research beforehand on your part. What sort of materials can you expect in your project? Does your contractor use concrete ready mix or gravel mix? Knowing what materials are being used for your project can give an idea of how long your concrete will last and what your money is being spent on. If a contractor is using a low-grade brand of concrete, you may want to find another concrete contractor.
Waste Removal
This might not be the first thing that comes to mind, but it's still worth looking into. Will the contractor be removing this material themselves, or will they be subcontracting that work? It's especially important to figure out what will happen to waste materials (old concrete, excess gravel, rock, and stone, for example) as you don't want to be stuck finding a solution once the job is finished.
Keep these considerations in mind when speaking with potential concrete contractors. At the end of the day, it's important that you are comfortable with the level of service you're receiving and the professionalism they demonstrate. Take your time, do your research, and make the choice that works for you.